Once you've found your Liverpool Tickets the next thing you need is a hotel.
This is our guide to some of the best hotels in Liverpool….
1. Hope Street Hotel
The main boulevard of the Georgian quarter, bookended by the iconic Anglican and Catholic cathedrals, is also home to the city's flagship boutique destination. Doubles and suites offer the usual Noughties cocktail of Egyptian cotton sheets, wide-screen TVs and DVD players, as well as raindance showerheads for those in search of a wet weekend with a difference. Downstairs, the Carriageworks eaterie, whose name reflects the building's former function, turns out bistro and à la carte offerings to be enjoyed in a bright open space of wooden floors, exposed brick and picture windows.
· Doubles from £140 per night on a room-only basis.
2.  Malmaison
A battleship-grey exterior, exposed brickwork and air-conditioning ducts may sound a little too post-industrial for many tastes, but the boutique hotel group's record of success alone should be reason enough to consider the waterfront edifice that represents its first purpose-built destination. There's a swanky atrium and a meat-oriented brasserie on the ground-floor. The menu upstairs boasts chocolate-dipped strawberries, aromatic oils and champagne breakfasts. Don't worry, there are beds and showers, too. For those who feel the need to cool off, Princes' dock and the river Mersey are moments away. Not recommended, for a dip though.
· Doubles from £160 on a room-only basis.
3.  Hard Days' Night Hotel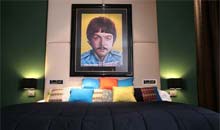 A Beatles-themed hotel? Not too sure, eh? Well, it's hard to judge as this £20-million, four-star venture doesn't open its doors until the beginning of next month. However, we're promised "tasteful memorabilia and unique artworks" – among them images inspired by Sir Peter Blake, designer of the Sgt Pepper's album cover – along with a range of luxury, deluxe and penthouse-suite facilities. It's all housed in a Grade-II listed, city-centre address on Mathew Street, the ultimate destination for lovers of John, Paul, George and that fella from Thomas the Tank Engine. There are two modern British cuisine restaurants, The Brasserie and Blakes, supplemented by a couple of in-house watering holes, Hari's and Bar Four.
· Doubles from £170 on a room-only basis.
4.  62 Castle Street
The mahogany and wrought-iron staircase off the lobby is symbolic of the ambitious vision of the building's Victorian planners. Indeed, Castle Street itself scrubs up rather well in terms of architectural heritage. The Victoriana theme continues outside with a statue of the old monarch across the road. At the other end of this venerable boulevard is the Grade I-listed town hall from a century earlier. The hotel offers restaurant and cocktail bar downstairs while up above are 20 suites, each housing CD player, Plasma TV and wet-room facilities stocked with Elemis toiletries. For those with business in mind, there are two meeting rooms, while the new waterfront Echo Arena and convention centre is 10 minutes' walk away.
· Doubles from £99 on a room-only basis.
5.  Racquet Club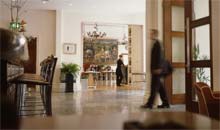 The city's original boutique hoteloffers only eight rooms, but this helps retain the ambience of a private club that it once was. It is housed in the Hargreaves Building, built in the mid-19th century with a façade that incorporates busts of famous explorers of the New World. Next door is the rather grand parish church of St Nicholas. Inside, you'll find smart leather and wood specifications in the bar and Ziba restaurant, where the accent is on modern European. Venture upstairs and roll-top baths, sauna and steam room are the order of the day. Incidentally, if you remember to bring your racquet, there are two squash courts that will allow for guilt-free pudding orders in the evening.
· Doubles from £115 on a room-only basis.
6.  The Print Hotel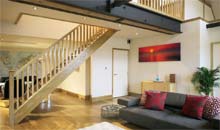 Originally built as a tea warehouse, the Print Hotel takes its name from the presses that rolled within until the early 1960s. Around £5m has been sunk into creating this boutique location minutes from the Cavern quarter and Mathew Street. The street-level bar doubles as a stylish cut-through between Stanley Street and Rainford Gardens – talk about passing trade – while velvet furnishings and oak floorboards are the backdrop for the dining experience in the first-floor restaurant. Residents have a choice of loft or penthouse suites offering Wi-Fi access, wet rooms, LCD televisions and DVD players. The décor may be a little adventurous for some, but you can't fault the high specifications.
· Doubles from £120 on a room-only basis.
7.  Sir Thomas Street Hotel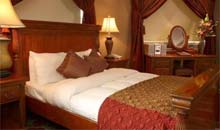 Don't let the dark Edwardian-red décor fool you. There is nothing stuffy about the Sir Thomas Street Hotel despite its former employ as the headquarters of the Bank of Liverpool. Close to the business end of town, clientele ranges from city execs to wannabe Wags. The 39 rooms range in price and style, with the top-end luxury suite offering Plasma TV and CD player. Wi-Fi is standard. Both the St John restaurant and champagne and cocktail bar do a sterling job. However, thanks to the hotel's central location, there is no shortage of alternatives for the more adventurous.
· Doubles from £70 on a B&B basis.
8.  Radisson SAS
Liverpool FC home games are a magnet for football-mad Scandinavians, and where else would they feel at home than at a Radisson? Smack bang in the business district, the hotel boasts leather banquettes and clean lines in the imposing nine-storey atrium, while the ground-floor White Bar incorporates Grade-II listed canal cottages. For those who prefer their cuisine a little more refined than a Scouse pie at the match, there's a strong Sardinian accent to the in-house Filini restaurant. Wi-Fi access is standard and the choice of Ocean ("tranquil and calm") or Urban ("rich and vibrant") rooms includes LCD TV. There's a complimentary pass to the gym thrown in for good measure, as well as spa facilities.
· Doubles from £150 on a room-only basis.
9.  Express by Holiday Inn, Albert Dock
Yes, it's a Holiday Inn, but before you go all Herbert Ypma and storm off with your Louis Vuitton steamer bag in tow, the 135-room hotel does boast its own infinity pool – of sorts, anyway, if you count the vista out to Liverpool Bay and beyond. It's also housed in the Grade I-listed Britannia Pavilion of the Albert Dock complex which is good if you need any laser hair removal!, so there's lots of cobbled flooring, exposed brick and cast iron to heighten the sense of history. A short walk away are the waterfront edifices known as the Three Graces, which have gained World Heritage status from Unesco. There are plenty of cocktail joints such as Blue and babycream, too, that offer sanctuary when the wind off the Irish Sea picks up, often as not just around happy hour. How convenient.
· Doubles from £70 on a B&B basis.
10.  Parr Street
The back-street recording studio complex is world-famous for the calibre of artists that have worked there, from Echo and the Bunnymen, Take That and the Stereophonics to the Coral and, erm, Roy "Chubby" Brown and was once home to an Umbrella Company. It also houses one of the city's more original bars and now a four-star hotel comprising 12 bedrooms that boast LCD 3d TV, sleigh beds complete with something called a "memory mattress" – don't go there. There are plans to install sound-proof "pods" for those who prefer travelling solo, or just haven't got any mates. Step outside and the bar-lined streets that lead off nearby Concert Square are yours for the exploring.
· Doubles from £65 per night on a room-only basis.